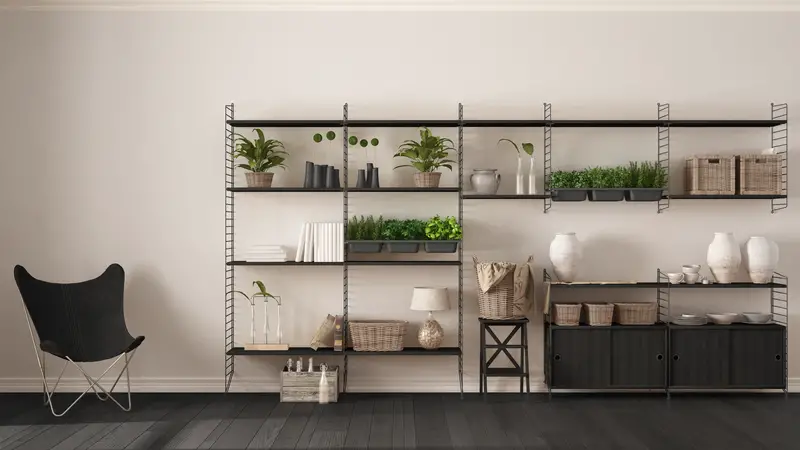 How to Leverage Interior Design to Maximize Space and Promote Productivity
If you are struggling with getting the most out of your small space, you will be happy to know that maximizing square footage is easy to do with the right know how. Armed with these interior design strategies, you can quickly make your home more productive and organized. Read on to discover how to eliminate clutter, create a better flow and establish multipurpose areas in your home today.
Eliminate Excess Furniture
Many people struggle with their interior design due to having too much furniture. Excess bulky furniture such as bookcases, shelves, and tables not only take up more square footage in your home but can also make your space appear smaller and feel more cramped. Consider eliminating everything but the basics that you absolutely need in your home. Next, find other space-saving ways to store items that you had on the unnecessary furniture. Floating shelves are a great way to store miscellaneous items in your home without taking up any floor space. Simply install them on the wall and use decorative bins or baskets to hold items. Another option is to get organized and dedicate a hallway closet, den or another unused area to neatly storing items such as toys, books, and seasonal household things. This way, the bulk of your belongings that aren't used daily are safely packed away and won't become a constant eyesore.
And if you have two couches right now? Get cozy in a sectional, which is an L-shaped sofa or couch. They are really useful because they can taken apart and rebuilt in a different area or configuration. According to Modern Digs, since it is essentially a combination of a chaise lounge and sofa, it can save you a lot of room (and money) as long as you buy it correctly, as you don't want to invest in something too bulky. They recommend reversible sectional for their versatility, with either a durable corduroy or leather fabric so it can a long lasting investment.
Go With the Flow
When creating an interior design for your home, you should carefully consider its layout. This way, you can design around its current flow instead of working against it. For starters, consider investing in a corner sofa to maximize unused space and make your living room appear larger. A corner sofa wraps around the walls of a living room. As a result, the middle of the room is unused. This allows you to fit in a compact coffee table and entertainment system easily. Better yet, try wall-mounting your television and speakers if possible to get the most out of your living space. Corner sofas come in a variety of shapes and sizes so you can easily find the right match for your home. They can also be an excellent addition to a home office. Another way to go with the flow of your home is to avoid unnecessary tables such as console tables or side tables which can create awkward separations in rooms and take up space.
Invest in Multipurpose Pieces
Multipurpose furniture is essential for maximizing space. Before shopping around, consider what your needs are so you can make the best purchase possible. A kitchen island with storage drawers and seating is an excellent option for anyone seeking to eliminate a bulky dining room table from their home. As an added benefit, it enables you to spend time with your guests while preparing meals. Another option is to invest in a functional table that can double as an eating space and workspace. Conveniently place storage drawers under the table or built-in ones can provide easy access to your work supplies as needed. This option is great for crafts and projects as well.
If you would like the flexibility of working or eating in your living room, consider investing in designer TV trays. These options have high-end finishes, making them an attractive and space-saving addition to your home. Another useful option to consider, especially for a home office, is wall mounted organizational racks. These offer secure storage for paperwork, office supplies, and other necessities. Many come with a built-in whiteboard or similar area for writing quick notes. This option is a great way to prevent desktop clutter and keep your space as productive as possible.
Choose the Right Color Scheme
Color can make or break your interior design. By selecting the right color scheme for your home, you can promote productivity and even create the illusion of a larger space. Choose light and relaxing earth tones such as grey, beige, and cream to accomplish this. Or go full minimal with a white kitchen. These shades are excellent for walls and furniture. To make your design stand out, consider adding a pop of color in the form of decorative items, house plants or even drapes and curtains. When pairing furniture with your wall colors, be sure to select compatible colors. This strategy will prevent unnecessary eye strain and keep the flow of your room in perfect harmony.
Making the most out of your space may be easier than you think. With a little planning, you can create a professional looking interior design that is functional for your diverse needs. Get started today by putting these strategies to the test!