Shark Navigator Floor Nozzle Hose Replacement Part #156FFJ
The Shark floor nozzle hose replacement part #156FFJ is compatible with the Navigator Lift-Away Pro series of vacuum cleaners which include models NV370, NV370_26, NV355, NV355C, NV355CFS NV356E, NV356Q, NV357 and NV358.
I've checked various stores online where you can purchase this replacement part and the best price I found was at Amazon.com which also usually includes free shipping with Prime.
Download The Owner's Manual
If you're thinking about carrying out these vacuum repairs yourself, you may find the owner's manual useful. Click here to download the Shark Navigator NV300 series manual.
The owner's manual is applicable for all Shark Navigator Lift-Away NV300 series model which include: NV350, NV350A_26, NV350C_26, NV350E, NV350Q, NV350T, NV350W, NV350_26, NV351WM1, NV351WM2, NV350W_N, NV350WC, NV351, NV351C, NV352, NV352BRN, NV352C, NV352E, NV352Q, NV353, NV354C, and NV354Q.
Watch The Repair Video
Alternatively you can watch this video from Think Crucial on how to replace the Floor Nozzle Hose on your Shark vacuum.
Time For A Change? Get The Newer Model!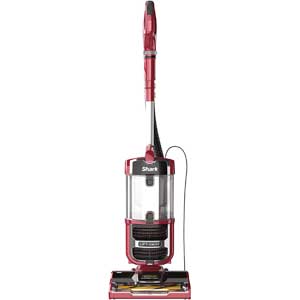 Maybe you've just realised that it isn't worth your time repairing your old trusty Shark vacuum.
Well, the good news for you is that there's a new version of your favorite workhorse vacuum cleaner.
The new Shark ZU561 Navigator Lift-Away vacuum cleaner will have you cleaning again in no time.
It comes as standard with HEPA filration, self-cleaning brushroll, swivel steering and a few extra tools and accessories to make cleaning your carpet or hard-flooring a breeze.
Don't suffer anymore with an out-dated cleaner that keeps breaking down.
Get yourself the new ZU562 Navigator and enjoy the difference the newer model makes to your housework.