10 Patio Design Ideas That Your Guests Will Love!
Creating the perfect patio for entertaining guests might not be easy, but it is certainly possible.
With a little creativity and the right furnishings, you can transform a simple patio into a modern and stylish outdoor getaway. Whether you currently have a wooden, a bluestone, or a cement space, these gorgeous patios will truly inspire you to dream big.



What To Take Into Consideration
There are actually several things you should consider while designing your dream garden patio. The first thing to take into consideration is regarding the usable space available to you.
If you create an modern outdoor space that is nice to sit out in and gives you and your friends pleasure, then it can increase the value of your home because a cosy outdoor space really appeals to potential buyers.
It is one thing to have an idea in mind, and quite another to attempt to execute that idea without the proper room. Deciding on the size of your patio is imperative. You must also take into consideration the size of any garden you wish to incorporate into your patio space.
In order to decide how large you want your patio, you need to think about what the main activities of your patio will be.
Whether you plan on hosting barbecues for your friends and family or your plan is to relax in the sunshine, read a book, or simply sunbathe, the size of your patio is important.
Think about how many people will be regularly using your patio, and the type of furniture you are thinking of using. There are hundreds of designs to choose from.
In this post, we are going to look at 10 of my most favorites.
(1) Multi-Level with Waterfall
A backyard water feature, such as a waterfall or stream instantly adds beauty and tranquility to your patio. Who doesn't enjoy gazing at or listening to the rippling sound of a brook or waterfall?
It is unlikely you have the ability to drive or hike over to such a tranquil location, but you can use this project as an opportunity to recreate these peaceful feelings in your own backyard.
(2) Poolside with Pergola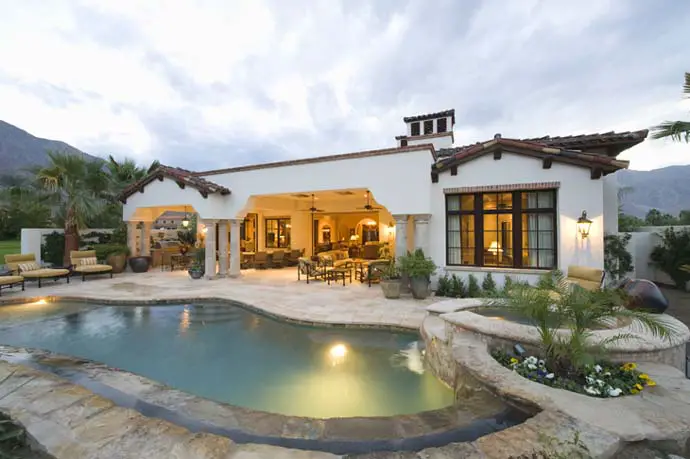 It is no surprise that a pool adds immense value and sophistication to any patio. Lounging poolside is a staple patio pastime, but everyone needs a shady retreat for when the sunshine gets to be too much (source).
A low-maintenance pergola is an excellent option for those looking for the best of both worlds. You may also be interested in finding the best pool vacuum to keep it clean.
(3) Outdoor Kitchen with Pergola
Speaking of pergolas, if your patio doesn't allow for a pool or you simply do not want the hassle of pool maintenance, why not pair your shady retreat with a patio kitchen?
When it comes to entertaining guests, nothing brings people closer together than food.
Who doesn't love to gather around a table while someone cooks a beautiful home cooked meal on their perfectly designed patio kitchen?
(4) Asian-Inspired
Asian-themed décor has been a cult favorite for, well forever. It has long been thought of as an elegant, beautiful and simple addition to any room (patios not excluded).
An Asian theme is known for its calming and soothing abilities, which is precisely what you're looking for in your backyard retreat.
(5) Multi-Level with Fire Pit
Multi-level patios are pretty self-explanatory. It is an area that has been constructed using steps to give the patio higher and lower levels.
By adding a structure like this, you can effectively give yourself two distinct areas in one. Think of having your garden on the upper level and adding a beautiful brick fire pit with seating on the lower.
Fire pits are a classic element to any outdoor patio. Gathering around the fire pit at night with guests, relaxing and enjoying a cocktail or two can bring you back to simpler times.

(6) Grilling Station
Earlier, we talked about adding an outdoor kitchen to your patio. But maybe you want something a little less intimidating than an entire kitchen.
A simple grilling station is more than enough to whip together a delicious meal for your guests.
This is the perfect option if your space is limited or you want a patio that is relatively low-maintenance.

(7) Enclosed Outdoor Dining Area
Dining outdoors is wonderful, most of the time. The reality is it's not always a perfect experience.
Random gusts of wind, unpredictable weather patterns, and don't get me started on bugs. These are all things that can ruin a dining experience.
But fear not, you can still enjoy the beauty of an outdoor dining area without risk of catastrophe by merely adding an enclosed dining area to your patio.
This is honestly the best of both worlds. You will have security from the elements (or mother nature, in general), and the ability to dine outside. Win. Win.
(8) Patio with Pond
So far, we have talked about pools, pergolas, fire pits, and kitchens. What other elements could you possibly add to your patio that we have covered? Ponds!
Building a low-maintenance pond next to your patio is the equivalent to adding art to your backyard. If you are looking for a real "wow factor," then look no further.
Nothing adds more character to an outdoor space like a beautifully designed pond. Not everyone has the luxury of a backyard pond, and those that do, have a patio that stands above the rest in each and every season.
Summer, fall, winter, and spring all have different effects on ponds, making them a unique piece in every season.
(9) Fire Pit Centerpiece
Okay, we have talked about a lot of different patio idea so far, and none have been as low-maintenance as a fire pit centerpiece.
If the primary goal of your patio is a simple, relaxing area, this is the right choice for you.
Possibly the most inexpensive option, this gives you some room to customize your furnishings in order to really make this patio feel like a retreat.



(10) Fireplace Focal Point
A tradition brick fireplace, used as a focal point, is an elegantly simple way to add beauty to your patio. Unlike a fire pit, an outdoor fireplace extends the use of an outdoor living space into all four seasons.
It creates a unique place to gather, enjoy leisure activities, and make memories. Fireplaces range from inexpensive and portable metal models to DIY kit projects.
If you are currently thinking of renovating your backyard patio, I hope you found these ideas helpful. Creating an outdoor space is an exciting project, and it should reflect who you are.
This is likely something you will have for a very long time, and you should consider what you want out of your patio before making any significant commitments. Good luck!
If you're looking for other ideas to astonish your house guests, then make sure to spend some time in our blog!