5 Easy Ways To Get Dog Hair Out Of Your Car
There's nothing cuter than a dog hanging its head out of the car window while you drive.
However, the moment they get out of the car, you notice the clumps of hair sticking on your car seat and carpet.
Your dog has shed its hair in your car again! This can be annoying, especially if you don't know how to clean it up.
Before you freak out, here are five simple and easy steps that you can do to clean your car. These steps will effectively remove dog hair from your car seats and carpet. You won't have to pay extra bucks for a professional car wash if you follow these steps.
Step 1: Remove the hair from the car seats.
If you don't know how to remove dog hair from car seats, there are a few different methods for different types of material.
Leather seats can be easily wiped off with a cloth or lightly cleaned with a car vacuum. (You can also use wax to clean your leather seats if there are muddy footprints left behind.)
For cloth seats, however, you need to clean them deeply because dog hair can weave itself intricately with the material. You will need to use a vacuum cleaner with a really strong suction and motorized brush like the Dyson V11.
You might also want to invest on car seat covers and dog grooming tool to avoid the hassle of cleaning them regularly. (See Step 5 to learn more.)
Step 2: Blow out hair from the surface.
The next step is to clean the carpet. However, before you start vacuuming, the best way for getting dog hair out of car carpet is to first blow out any clumps from the surface.
This will make carpet cleaning easier later, as the easy-to-remove hair has already been cleared.
Use an air compressor (note: they're actually cheap) to remove loose hair from the top layer of the carpet – this is why you need to clean your car seats first—let the hair from the seats fall to the carpet, and then blow these clumps out of the car as well.
If you don't have an air compressor, that's not a problem. You can skip this step and proceed to the next one.


Step 3: Loosen the hair stuck on the carpet.
To make vacuuming easier, you should first loosen hair clumps that are stuck on the carpet. You will need nitrile rubber gloves for this step.
Put on the gloves, soak them in a combination of water and liquid fabric softener, and then run your hands all over the carpet.
You will notice hair strands sticking to the rubber gloves as you move along. Every now and then, rinse off the hair from the gloves by dipping them on a bucket filled with your water and fabric softener solution.
Repeat this process until you've covered the entire carpet.


Step 4: Brush and vacuum the carpet.
The next step is to brush and vacuum the carpet. You can use a lint roller, a lint brush, or a pet hair broom to brush away any remaining hair that is stuck on the carpet.
When you brush, make sure that your strokes are towards the vacuum cleaner. This way, the vacuum cleaner can suck the hair in before it sticks back to the carpet.
You can keep a portable vacuum cleaner in the trunk if you bring your dog in the car regularly. Otherwise, you can invest in a vacuum cleaner that you can use in the house as well.
There are lots of vacuum cleaner brands offering different models that are supposedly the best in the market. However, we've already found the best pet hair vacuum cleaners around.
The top 5 vacuum cleaners for removing pet hair from your car upholstery and carpet are:
Dyson V11 Torque Drive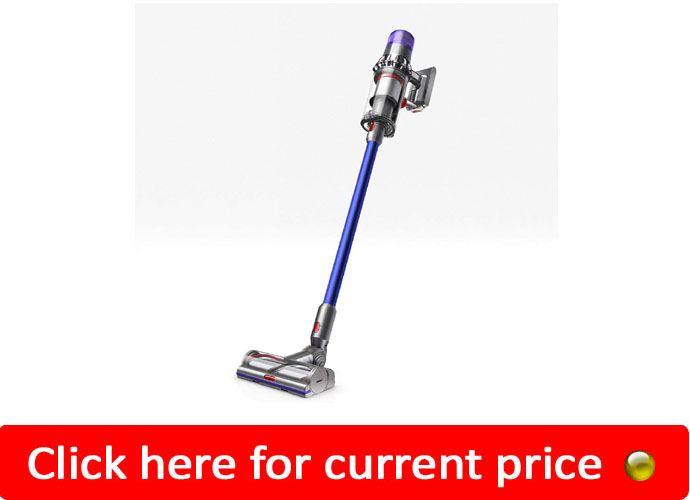 If your car carpet needs a deep cleaning, the Dyson V11 Torque Drive vacuum cleaner is the best tool for the job. No other vacuum cleaner's sucking power can match it. It has massive suction and a mini motorized tool that deeply penetrates the fibers of the carpet and seat cloth in your car.
In addition, the Dyson V11 vacuum cleaner was specifically designed to clean pet hair and other debris from multiple surfaces.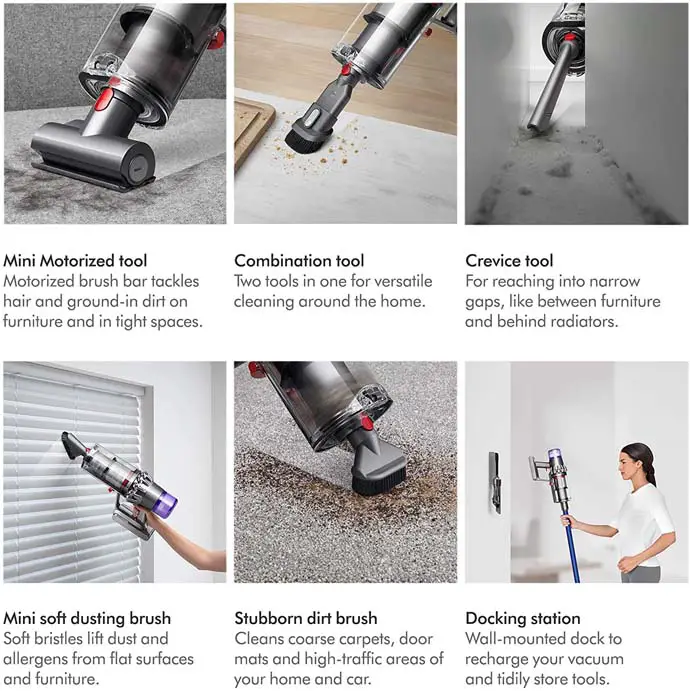 Shark Rotator NV752 Powered Lift-Away TruePet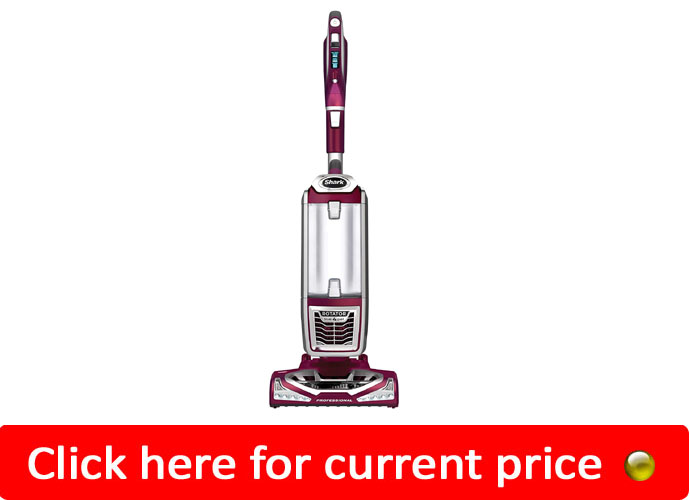 The Shark Rotator NV752 is straightforward to assemble; hence can easily be used without much hassle. It also has mighty suction power to ensure that the vacuum cleaner can tackle all the tough pet hair stuck on your carpet or seats.
The Shark NV752 has a very flat and slim suctioning base to enhance its easy movement, even under the low placed furniture. You can easily use the machine to clean under your seats, wall units, or even low lying shelves.
Despite the top-notch technology used while designing this vacuum cleaner, the good news is that it maintains full suction power in whichever configuration you set it. This is one of the best vacuum cleaners for pet hair because it has powerful suction, can easily clean under low furniture, is easy to assemble and is well priced.
Dyson V8 Animal

For the best cleaning experience at a great price, go for the Dyson V8 Animal. When fully charged, you can use the cleaner for up to 40 minutes when using a non-motorized tool. It is also lightweight and versatile, hence why it's the best value for home and car cleaning.
The Dyson V8 has an instant release trigger, which means that the battery is only used when the machine is in cleaning mode. It is designed with technology to ensure it gives the best results  for deep cleaning homes with pets.
The Dyson vacuum can HEPA filter all allergens on carpet and expels air that is cleaner than what we breathe. The V8 also comes fitted with a hygienic emptying bin of 0.14 gallons, so that there is no need to touch the dirt after cleaning.
Some of the benefits of the Dyson V8 are that it's efficient for picking up pet hair, has a superb floorhead design, comes with a wall dock charger, has strong suction and has mini tool for dog beds, cars and upholstery.
Bissell Pet Hair Eraser Turbo Plus
Bissell has a well-known pet foundation that helps save homeless pets. Every purchase made on a Bissell Pet Hair Eraser really helps to enhance the wellbeing and care for lost and homeless pets.
This vacuum cleaner is designed with some specialized tools that help pick up pet hair from your car upholstery. The SmartSeal Allergen high-end filtration system which is combined with the tight seals allow it to efficiently such up dirt, pet fur, and also dander.
Bissell Cleanview Swivel Rewind Pet Vacuum
The Bissell Cleanview Pet rewind comes in different colors. It is an upright vacuum cleaner for homes with pets. The vacuum cleaner uses a multi-cyclone suctioning technology, similar to Dyson, to provide strong sucking power on all types of floors. It comes fitted with a variety of tools for use on different surfaces.
It has flexible swivel steering, making it easy to clean around furniture and other stationary obstacles. It also has a triple action brush roll that maximizes the embedded pet hair pick up.
Step 5: Prevent future hair clumps.
The last step on how to remove dog hair from car is to prevent future hair clumps from plaguing it in the first place. As mentioned earlier, you might want to invest on pet seat covers that are easy to put and remove from your car seats.
These cloth seat covers will absorb the hair and dirt particles that your pet brings inside your car.


When they get dirty, you can take them off and put them in the washer. Or, if you don't want to spend a couple of bucks on a seat cover, you can always lay a piece of cloth or an old towel on the seat. These will solve the problem as well.
Another option is to brush your pets' coat before bringing them inside the car. If you brush them beforehand, you remove any loose hair that will otherwise be shed inside the vehicle.
Regular coat brushing will also save you a lot of time when you clean around the house. Make this a routine and do it in a place where mess isn't a problem, like in the backyard or at a dog park.
Lastly, you can decide to not bring your pets inside the car. As much as possible, leave them in the house when you're only running errands for just a couple of hours. If you need to leave for a while, you can ask a friend to watch them for you while you're gone.
It's Easy To Remove Dog Hair!
With these 5 easy steps, we're sure you'll only be chuckling at the site of pet hair in your car in no time at all! If you're still struggling with dog hair in your car, checkout how the Pro's at  Detail King do it.