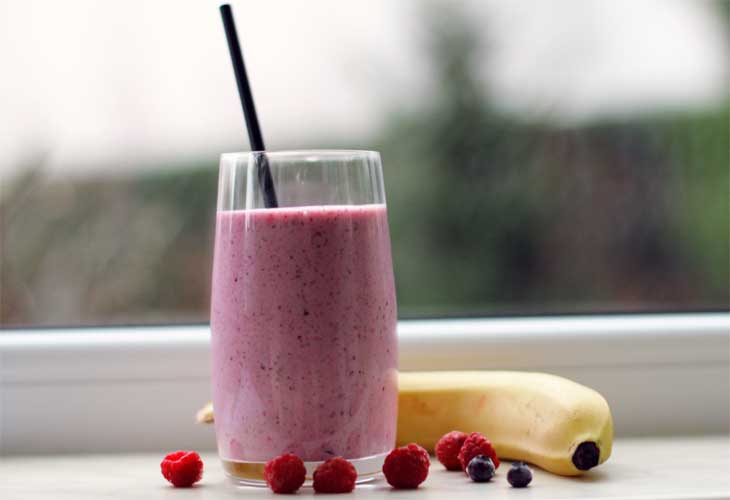 Can You Make Smoothies In A Food Processor?
Do you want to make a smoothie but don't have access to a blender? It is entirely possible to make your smoothies using a food processor.
Food processors and blenders are quite similar since they both use blades in order to turn large solid food into significantly smaller food particles.
With that said, we will now take a closer look at food processors and exactly how you can use them to make as many delicious smoothies as you want.
If you want to get your hands on a new food processor to try out, then I fully recommend the Ninja Blender/Food Processor with 450-Watt Base, 48oz Pitcher, 16oz Chopper Bowl, and 40oz Processor Bowl for Shakes, Smoothies, and Meal Prep. It's a fantastic machine that does everything needed to make a great looking and tasting smoothie.

How Does A Food Processor Work?
A food processor is a nifty kitchen appliance that actually cuts and grinds most foods. It can be used to make bread dough, cut up vegetables, mix cake batter, make smoothies and juices etc.
The actual food processor consists of a motor that powers the blades, a bowl and lid. It has many different types of blades where each one has a different usage.
With that said, there are many food processors that have different capabilities. They all come in a wide range of sizes and functionality.
What Are Food Processors Used For?
As mentioned above, the uses of a food processor are quite numerous. These small appliances are capable of chopping up various types of vegetables and even meats. It has both cutting and slicing functionality which makes these type of jobs quite easy. They can even be used to slice chips, according to the type of blade that is used.
Food processors are mainly used for mixing, grinding and crushing food to create curries, sauces, chutney, soups etc. They are great for creating ingredient mixes to add to your dishes as it is very efficient at mixing and crushing food.
They can also be used to make juices and smoothies. They come with different fittings that allow you to make these type of drinks. So, whenever you do need to use your food processor, carefully consider what you need to use it for and select the correct setting and fittings.
Making Smoothies In A Food Processor
Food processors are much better at creating solid food mixtures as opposed to purely liquids such as juices. However, if you have your mind set on using your food processor in order to make smoothies, then be sure to keep the following things in mind.
#1 – Avoid placing all of your smoothie ingredients into the unit all at once. This can cause some of the ingredients to be expelled forcefully through the spout of the appliance. Also, it won't allow all of the ingredients to blend together properly.
#2 – Avoid putting too much liquid into the machine.
#3 – Fine chop and dice your solid ingredients with a knife on your chopping board first, before you place into your food processor. Once you do, push them closer to the blades. (Warning: Never put your hands inside or near the blade).
#4 – Your recipe may require ice, but is better to freeze your fruits and place them into the food processor as opposed to adding ice.
There are numerous food processors that actually have a blender attachment. If your food processor has this functionality, you should definitely consider buying the attachment.
Ingredients Needed To Make A Smoothie
Vegetables: In most cases you'll need green leafy vegetables such as kale, spinach, lettuce etc.
Fruit: This can either be fresh or frozen fruit.
Liquid: This depends on your preferences. You can use liquids like water, milk, juice etc.
Energy boosters: This is not necessary and completely up to you.
Sweetener: This is recommended if you intend on making smoothies for children.
Step 1: Green Ingredients Go First
The very first step would be to finely chop all of your green vegetables that you'll be using for your smoothie.
So, if you're using a combination of swiss chard and kale, be sure to chop them first and then place into the food processor. Make sure that you push them close to the blade so that they can be finely chopped and blended with a kitchen utensil and not your hand.
Step 2: Fruit
Once you have added your green vegetables, the next thing you'll need to add are your fruits. It is highly recommended that you use frozen fruits because they will create a more smoothie-like or slushy in consistency.
Some great fruit options include bananas, strawberries, mango, pineapple, blueberries and more.
Step 3: Health Boosters
Smoothies are full of fruits and vegetables that naturally make them healthy. However, another way to give your smoothie an additional boost is to add health boosters. Some of these include:
Goji berries, spirulina and other antioxidants
Bee pollen, maca powder or even cocoa powder
Peanut or almond butter, avocado and other healthy fats
Coconut pieces, chia seeds, flax seeds and other forms of fiber
A bit of protein in the form of protein powder or even hemp seeds
Step 4: Liquid
Once you have added your health booster which is completely optional, you can then add the liquid. There are many great options such as milk.
Now, you don't necessarily need to use cow's milk but can use almond milk, coconut milk, cashew milk, rice milk, oat milk, etc. If you don't want to use dairy you can use normal water or even coconut water.
Another option is to use kefir or even yogurt. These will make your smoothie a bit thicker. Once you have added the liquid of your choice, you can then add a sweetener if you so desire.
Some great options include honey, agave nectar, sugar, maple syrup etc.
Step 5: Blend
Now, all that is left to do is attach the lid and blend. You can stop the food processor at intervals to manually mix with a spoon and scrape the bottom of the food processor.
Step 6: Serve Your Smoothie
Once you have finished thoroughly blending your smoothie, simply turn it off, remove the lid, remove the blades and pour into a glass, cup or bowl. You may need to use a spoon to help get the smoothie out of your food processor. Once poured, you can serve at once.
Closing Thoughts
To wrap things up, we have just shown exactly how you can use a food processor to make smoothies. So, if you're in the mood for a smoothie but don't have a blender, you can easily use your food processor instead to make as many delicious and healthy smoothies as you desire.