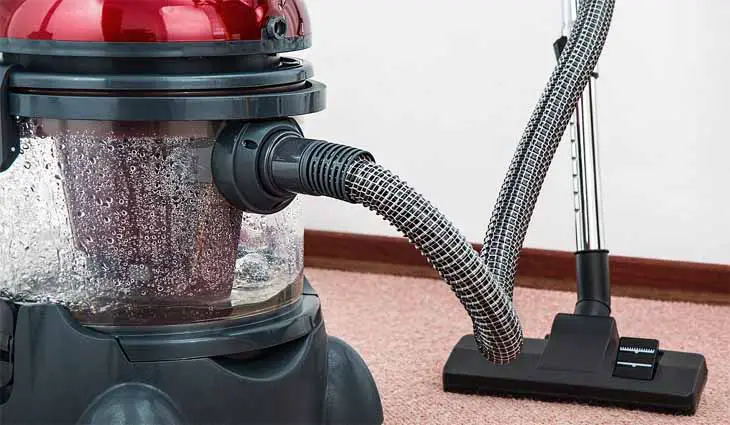 17 Different Types of Vacuum Cleaners (Ultimate Buying Guide)
With so many different types of vacuum cleaners on the market, it can be challenging to find the right one to meet your needs. Personally, I haven't found one type of vacuum to do everything I need, so I have two.
I use a Kirby G3 just for my carpets because I have large carpeted areas in my home and haven't found another vacuum that can beat it for cleaning carpeted areas and a Dyson V11 Absolute for everything else.
Nobody wants the effort of choosing a new vacuum cleaner to be as much work as the vacuuming itself. With prices ranging from $50 to $2000, it's important to do some research before you jump in and buy a new vacuum.
A new vacuum cleaner can be costly, so you don't want to waste money on one that isn't suited to your home environment or personal needs.
I'm Mila Kunst (more about me) and I've got over 30 years of experience in working with vacuum cleaners.
Over the years I've tried out many of the best vacuums from all the leading brands and have gained a plethora of knowledge about their individual strengths and weaknesses.
I really am a vacuum geek and I'm going to share with you everything you need to be aware of when you're thinking about buying a new cleaner for your home.
Let me help you choose the right vacuum for your home with this Ultimate Buyer's Guide. Don't get overwhelmed with all the new technology and features.
Let's start by going through the various types of vacuum available and which situation each is most suitable for.
I'll show you how to narrow the field and get the perfect vacuum cleaner for the right price, with all the bells and whistles, that you'll be happy to use all over your home.
Vacuum Cleaners By Type
1. Upright
Upright vacuum cleaners are probably the best type for all round cleaning over multiple surfaces (hard floor and carpet).
Look for the models that have a motorized brush-roll you can turn off to clean bare floor or/and height-adjusted for cleaning rugs with different pile thicknesses.
They generally come with a reasonably long power cord (16 ft average) and are best suited to large carpeted areas because of their maneuverability, wide cleaning path, larger dust container and motorized brush roller.
While the edge-to-edge suction is typically adequate, you might still require a different attachment to successfully access tight and hard to reach corners.
They are easier to use for people who suffer from lower back pain as they don't require as much effort to maneuver. Some models are even self-propelled.
However, they are usually heavier than other types of vacuum which makes them less suitable for carrying up and down stairs or in and out to the car.
Upright models are also probably the loudest vacuum type, so keep this in mind as you're likely to disturb anyone within the local vicinity of your cleaning.
Other options available to you when choosing an upright cleaner are: bagged or bagless,
A good example of an upright vacuum cleaner is the Shark Rotator Professional NV501.
2. Handheld
The handheld vacuum cleaners are small units that are made for grab-and-go tasks. These machines are portable and lightweight and come in cordless or corded versions without or with rotating brushes.
These miniature models are useful for quick and light surface cleaning across bare floors or short-pile carpets. Some of the handheld vacuums are also powerful enough to suck up pet hair. These handheld vacs are also handy for car interiors.
They are useful for clearing up a small amount of mess such as dirt or crumbs on floors, tables, car interiors, upholstery, and tight corners. Some of the corded models even come with 12v car adapters.
The handheld vacuums are not as feature-rich as full-size uprights or canisters that come with all the on-board attachments. However, most models do come with dusting brushes and small-crevice tools. They also lack the dust capacity and suction power of canister or full-sized upright models.
3. Canister or Cylinder
Depending on what part of the world you are from you may know the small units that are pulled along by their hoses as canister vacuum cleaners (US) or cylinders (UK).
These models provide powerful suction along with a variety of useful attachments and are also pretty quiet to use.
A canister vacuum cleaner is best for dusting and cleaning all types of surfaces and upholstery. The best versions feature a motorized brush-roll head capable of effectively clearing away debris on carpets. They also come with bare-floor attachments for tiles and hardwood floors.
The other attachments are designed for cleaning ceiling corners, walls, curtains, and furniture with ease. The long hose and compact body make these models well-suited for vacuuming stairs.
Dragging a canister behind the user can become tiresome for large spaces or rooms. Carrying the vacuum cleaner up or down stairs also typically requires that you use both hands. Some models are also bulky and harder to store.
4. Stick
The stick vacuum cleaners are lightweight and slim machines that use powerful suction and rotating brushes to quickly whisk up debris and dirt into a dust canister. The low-profile heads offer an easy way to move around or under furniture.
These are lightweight vacuum cleaners best suited to quick touch-ups. An example of this is cleaning under the dining room table after a meal. Some models can convert into a handheld version when disconnecting the wand.
While they might be handy, the cleaning abilities of most of these models are not sufficient to replace the deeper and more powerful cleaning of the full-size vacuum cleaners. Most of the cordless models may provide an easier way to move around, yet in most cases the battery life is short.
An exception is the Dyson range, most notably, the V11 Torque Drive. It has great battery life of up to 60 minutes and ultra powerful multi-cyclone suction.
5. Backpack
The backpack vacuum cleaners are modified canister vacs, designed to comfortably sit on your back. Most of the backpack vacuum cleaners come fitted with waist and shoulder straps that hold the machine in place which allows for ease-of-use and maximum mobility.
The motor on these vacuum cleaners is located along the bottom part of these units that creates a low center-of-gravity which ensures proper stability and balance for the user.
Due to the improved movement abilities, operators that use backpack vacuums experience a lot more efficient way to clean. Since the hose is easy to lift off the ground, this also allows users to use these vacuum cleaners as a duster as well.
One of the drawbacks of a backpack vacuum cleaner is that they can be bulky. It is easier to bump into objects such as walls or mirrors. Since these vacuum cleaners are worn on the user's back, it can be difficult to gauge distances between objects, walls, and furniture.
They make vacuuming large areas more efficient with some models having a 50 foot power cord, although some users have reported that you can get warm during use as the motor is on your back.
6. Central
The central vacuum cleaners which are also called ducted or built-in, are appliances that are installed into the structure of buildings usually at the time of building. They would be installed at a similar time to the electrical wiring and plumbing.
The central-vacuum system is made to easily remove dust and dirt from homes and buildings, sending it to a central dust container through the pre-installed tubing in the walls.
The dirt collects into the container and it means that any harmful allergens aren't realised back into the air of the area you are vacuuming. These powerful motorized dirt collection units are typically installed in offices or homes in a storage room, garage, or basement.
The inlets are also installed inside the walls of a building. These attach to a power hose along with other central-vacuum accessories designed to remove small debris, particles, and dust from interior spaces (rooms). Most of the power hoses typically feature a power-switch on the actual handle.
They are much easier to use when compared to canister vacuum cleaners. The only thing to carry is the powerhead and the hose. The central vacuum cleaners are typically quiet, while the dirt chamber does not need emptying as often as other vacuum cleaners.
Central vacuum systems are expensive and necessitate professional installation.
7. Robotic
A robotic vacuum cleaner is a cordless machine that "maps" the rooms in your home, zipping around to pick up dust and debris without any effort on your part.
These robotic vacuum cleaners can be controlled with a remote (or smart phone app) or you can program the machine to clean up even when you are not at home.
In-between touch-ups for your home are the robotic vacuum cleaners forte. They can get into hard to reach places and under furniture and beds where other vacuum cleaners cannot go. They can also easily access the areas you might have overlooked.
The cleaning power of robotic vacuums cannot compare to the full-size machines. You will need to clear a room before you let your vacuum cleaner loose.
If you have many obstacles in the way, the vacuum cleaner might not do a great job. Most of the robotic models are also pricey.
8. Wet/Dry
The wet-and-dry vacuum cleaners are versatile cleaning appliances that remove dry dirt and dust as well as an effective tool to remove accidental spills.
These cleaners do not use a bag but rather two separate devices that separate the dry dust from the wet spills. These vacuum cleaners also feature interchangeable brushes that are made for dry dust and wet spills.
The wet/dry vacuum cleaners are ideal for people with pets and kids that are faced with frequent spills and accidents on floors and carpets.
The wet/dry models are perfect for sucking up wet spills, dry dust and are also perfect for those heavy-duty jobs. For wet spills, the machine comes with internal parts that are placed separately and well-insulated to lower the likelihood of damage to the machine or electrocution.
Instead of bags, the wet/dry vacs use a two bucket system that separates wet and dry waste.
Vacuum Cleaners By Brand
9. Shark
Shark is a brand that is well recognized as one of the biggest and best. Shark creates different types of vacuums ranging from traditional upright to cordless and even to brand new robot vacuums.
Shark offers a very good 60-day money-back guarantee that you will be able to use to gain further peace of mind on your purchase.
As a brand, Shark is one of the more affordable options to choose from. More than anything, this brand is known to produce some of the most reliable vacuums you will find in the marketplace.
They are most famous for their 2-in-1 upright/canister Lift-Away range.
10. Dyson
Dyson is a brand that is a leader in the industry, not only by industrial design, but in terms of technology as well.
Dyson is well known for producing some of the more innovative vacuums with its cyclone technology and Big Ball design. They are also well known for producing the most powerful suction out of any vacuum you will find available in the marketplace.
Their large dust containers are hygienic to empty and perfect for sucking up and securely storing all sorts or dust, dirt and bugs while cleaning your home.
Best of all, Dyson offers its products with industry-leading 2 or 5-year warranties and a full 30-day money-back guarantee. They are the best choice if you are looking for a premium experience along with exceptional customer support.
You will find a lot of Dyson's products to be ahead of the curve when it comes to stylish product design that looks good in the modern home.
Likewise, they create products that offer exceptional performance albeit at a much higher price than alternatives.
11. Oreck
Oreck is another brand that offers some of the best commercial vacuums you will find available in the marketplace.
They are well known for producing stylish yet affordable vacuums of all types. You will find traditional upright vacuums, handheld vacuums, cordless vacuums, and even canister vacuums.
Oreck was founded in 1963 and they have been in the business of selling lightweight yet powerful vacuums ever since.
12. Miele
Miele is a brand that stands behind its products. They are a a German brand that is well known for producing high quality products that work very well.
Customers of Miele not only have high expectations for performance, but they have high expectations about the sustainability and the durability as well.
Miele is a brand that you go-to when you want a product that is going to last. The brand is consistently being voted as the best in its category and it is well known for its superb quality, design, and technology.
Miele offers a range of different types of vacuum cleaners including canister, cordless, and even robot options, however their Complete canister series C1, C2 & C3 are industry leading.
13. Bissell
Bissell is another option if you are looking to purchase an affordable vacuum. They make different types of vacuum cleaners including traditional upright, handheld, canister, and even robot vacuums.
Therefore, you won't be limited when it comes to choice if you are shopping with Bissell. They are produce some high quality, professional standard, carpet cleaners.
The beauty of Bissell comes with its history. The company and brand has been operating in the industry for over 140 years.
Therefore, you are getting a vacuum from a brand that has had major staying power and one that certainly knows what they are doing in the marketplace.
14. Kirby
Kirby is a vacuum cleaner brand that originated in Cleveland, Ohio. Their complete cleaning system is great for carpet, rugs, and furniture.
The vacuums that you will find being sold by Kirby are all manufactured in the United States and have been for over 100 years.
The original Kirby was created in 1906 and there have been constant improvements made ever since. With Kirby, you are getting quality, versatility, reliability, and high-level performance.
One major feature of Kirby vacs is that they have a motorized self-drive making them very easy to push over carpet. They are one of the few self propelled vacuum cleaners still in production.
Perhaps its most recognized product is the Avalir 2. It is touted as the complete home cleaning system and it delivers exceptional value for the money.
15. Eureka
Eureka is another brand that has had major staying power. This brand originated in 1909. Therefore, it has over 100 years dedicated to innovating on their vacuums.
With this brand, you are getting reliability and convenience. The various vacuums sold by Eureka have the kind of features that you would want in modern vacuum cleaners no matter the type. They are great for cleaning up after pets.
If you are after a good all-around vacuum cleaner, this brand is one that you should be considering.
16. Hoover
Hoover is a brand that offers a lot of different models of vacuum cleaners at various price points. In general, Hoover is much more budget-friendly than an alternative higher-priced brand like Dyson.
While Hoover doesn't stand out as the best performer, it offers one of the best value propositions you will find anywhere.
You will find upright vacuums, carpet cleaners, cordless vacuums, stick vacuums, and even pet vacuums being sold under the Hoover brand.
The brand packs in some must-have features at consumer-friendly price points making it a good brand to consider for those who are more budget-conscious.
Hoover are probably the most famous vacuum cleaner brand across the whole world. In fact, some people refer to vacuuming as hoovering when they are doing their household chores. When I ran my store, customers would frequently ask me, what are the best Dyson hoovers or Shark hoovers for sale.
17. iRobot
iRobot is one of the most innovative vacuum brands in the space. If you are looking for the most innovative products being sold in the industry, you are likely going to glue your eyes to iRobot vacuums.
This is the brand that created the ever-so-popular Roomba robotic vacuum. This is the major product iRobot is known for. The Roomba is considered the "King" of robot vacuums because it functions so well.
iRobot has perfected the art of the robot vacuum and their vacuums are typically packed with the best features and their mobile app is so convenient and easy to use.
If you are out for convenience above all else, there is no better brand than iRobot. iRobot's smart vacuums and smart app make it as easy as possible to get an intuitive clean even when you aren't home.
Vacuum Repair & Maintenance
Your vacuum cleaner needs regular maintenance if you want it to last longer. Some of the things you need to do on a regular basis include cleaning the filters and removing tangled hair from the brush roll.
Sometimes faults occur and you can leave them into a repair shop of try and fix them yourself. Don't pay for costly repairs when your problem could be something a simple and easy as changing the belt.
Here are some good DIY repair tips: