Best Commercial Vacuum Reviews 2020
Last Updated: 4th January 2020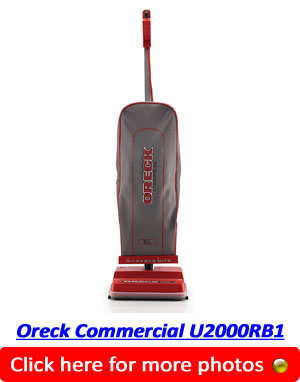 If you run any kind of business, then chances are you'll need a commercial vacuum cleaner.
These robust vacs are most suited to larger areas of floors such as in offices or restaurants, but can be equally useful in places such as hotels or guesthouses where the professional vacuum cleaner gets a lot of constant use.
In a hurry…
After extensive research of over 15 of the top commercial vacuum cleaners that range from upright, canister & backpack models, the best commercial vacuum cleaner recommended by ShowHomeStyle.com is the Oreck U2000RB1 XL Upright.
This top rated and best selling Oreck upright usually retails for around $265 so if you can get it for under $200, grab it. With lot's of 5 star reviews that's a real bargain for this best selling commercial vacuum!
The best commercial grade vacuum cleaners differ from domestic vacs because they are more powerful, durable and longer lasting.
They are made for professional use and should be easy to operate and maintain while showing little signs of wear and tear over time.
Top 5 Commercial Vacuum Cleaners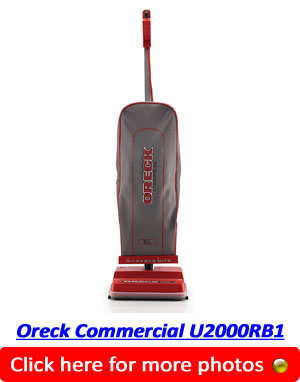 Made in the USA and great for office cleaning! The highly rated Oreck U2000RB1 is a slimline, upright, multi-floor cleaning unit that only weighs around 9 pounds.
Although slimline and lightweight, it is very robust and heavy duty when it comes to wear and tear. The Endurolife belt comes with a 5 year warranty.
With it's useful carrying handle half way down and it's 'Helping Hand' handle, it is very comfortable to maneuver around.
It has a lengthy 40 foot power cord for cleaning over larger areas that is removable and easily replaced if you damage it in anyway through normal wear and tear. Replacement parts like this should be standard on all heavy duty commercial vacuums!
The cleaning path on the powerful deep-cleaning brush bar (5000-6500 rpm) is approximately 12 inches and you can move effortlessly over low, medium and high pile carpet, tile, laminate, hardwood and other hard flooring with the exclusive Microsweep technology. No need to adjust the cleaning head when moving between surfaces.
It copes well with any type of dust or dirt over any surface including pet hair. One reviewer on Amazon remarked how well it coped with his three heavy shedders!
The large capacity dust bag (630 cubic inch) allows for maximum power and less suction loss even while the bag fills due to it's top-fill design. Apart from bag emptying, this really is a low maintenance commercial upright vacuum cleaner.
Another great feature of this lightweight, powerful, industrial vacuum is that it can lie down virtually flat to get under even the lowest of furniture to collect the dust and dirt from those otherwise hard to reach areas. Great for restaurants, schools, offices and even household use.
The major difference between the Oreck U2000RB1 and the Oreck U2000R-1 is the cogged Endurolife permanent v-belt, designed to reduce slippage, which should last you at least 5 years guaranteed.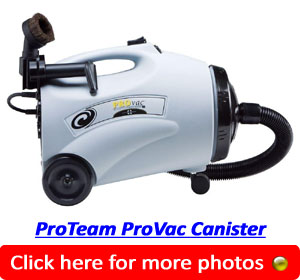 The ProTeam ProVac CN commercial canister vacuum features the Xover Multi Surface Toolkit and 10 quart Intercept Micro Filter dust bag that will help keep your commercial establishment or residence super clean.
This canister vacuum is a perfect solution for increased productivity whilst cleaning (cleans 2500 sq foot in 22 minutes) and would be an essential piece of equipment for any domestic cleaning business.
It combines 1188 watts of power and it's 9.9 amp motor to produce exceptional suction. For the more technical people that's an airflow of 150 CFM with 100 inch static lift. With this amount of power you would expect it to be noisy, but the ProTeam ProVac CN is one of the quietest commercial canister's on the market outputting only 66 dBA of noise.
It picks up napkins, food scraps, and other large debris quite easily thanks to the high-powered motor and suction-only design. The unit helps improve cleanliness and efficiency in your organization by cleaning faster.
Together with it's easy maneuverability, you and your ProVac CN can deal with any tough cleaning conditions in commercial offices, restaurants, and retail spaces.
The 12-lb portable vacuum is designed without belts, brushes, and beater bars. Hence, maximum longevity and durability of the equipment are guaranteed. The ProVac CN canister vacuum consists of a 1.5 inch diameter, 6.5 foot long static-dissipating hose coupled with a 50 foot power cord to easily clean a large area in a quick and efficient manner.
Dust mites, mold, pollen, bacteria and dead skin cells can lurk inside your home and cause allergies in the long run. The advanced 4-level filtration system consists of Intercept Micro Filters and helps remove 99% of allergens from your indoor space.
The Xover Multi Surface Toolkit includes:
42-59 inch Aluminum Telescoping Wand for cleaning Blinds, Lights & Vents
14″ Xover Floor Tool for carpets and hard floors
3 inch Dust Brush with reducer
5 inch Upholstery Tool
11 inch Crevice Tool
Maire Shield's Verdict
This ProTeam ProVac CN comes with a limited lifetime warranty on the molded parts. There is a three-year warranty on the motor, labor, and other parts of the unit. The customer service of the company seems to be excellent. The company has been reported to stand behind it's products because the quality really matters to them.
Many real customers who have bought the ProVac CN canister have rated the product highly. The majority of the customers say that the vacuum is a powerful but compact machine with great suction power.
All in all the ProTeam ProVac CN Canister is one of the best commercial canister vacuums on the market. You might also like our top canister vacuum reviews.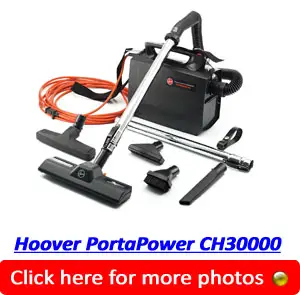 The Hoover CH30000 is a lightweight (11.5 pounds), canister, type vac with a shoulder strap for ultimate portability. Can be easily used like a handheld.
It's equipped with a 35 foot power cord, stretch type hose and a reusable cloth bag for collecting the dust and dirt.
One of the benefits of this model is the built in blower. You can use it to blow away dust, dirt and other debris from hard to reach areas.
The cleaning head has a width of 10 inches and the motor provides 7.4 amps of power.
The PortaPower includes a useful collection of tools accessories. In the box is a shoulder strap, 2 chrome wands, crevice tool, dusting brush, furniture nozzle, rug/floor nozzle, wall/floor brush and a cord storage strap.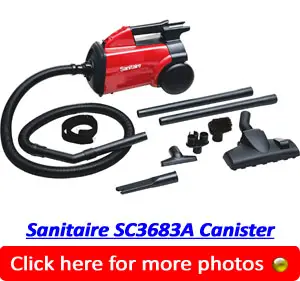 The Sanitaire SC3683A by Electrolux is a handy little (11 x 19 x 18 inches), lightweight (10 pound), canister vacuum that can be carried around on your shoulder as it comes with a carry strap.
It is a multi-use, multi surface, canister that works equally well over carpet and hard flooring. The SC3683A is light enough to carry one handed and with it's handle can be used as a handheld when cleaning stairs or cars.
It also comes with a handy wand attachment that allows you to clean effectively even in those hard to reach areas such as ceiling corners and behind furniture.
The Sanitaire SC3683A is HEPA friendly and uses bags for collecting the dust and dirt.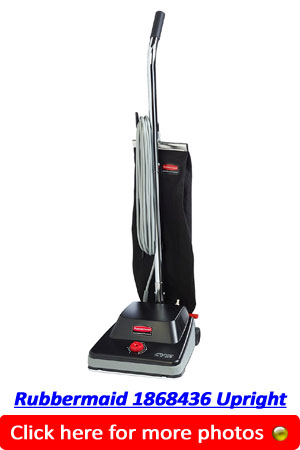 The Rubbermaid 1868436 is a versatile upright commercial vacuum that's so easy to maintain that it's the cleaner of choice for lots of small hotel owners.
It's very durable with it's heavy duty metal handle tube and easily removed bottom plate allowing you to change the belt quickly or remove the brush bar if you need to.
You can effortlessly move over any height of carpet pile as this Rubbermaid commercial vacuum has 6 different height adjustment settings.
It can even lie down flat to get under beds or other furniture.
The 13.75 quart bag is pretty large for gathering up lots of dust and dirt with fewer bag changes and the machine comes with a CRI Green Label certification for improving air quality indoors.
Together with a 40 foot power cord and powerful suction, the Rubbermaid commercial vacuum cleaner is a good choice for keeping large carpeted areas clean.
Best Commercial Vacuum Video Reviews
Our friends over at The Smart List have put together this quick video overview of our top 5 commercial grade vacs. You can also find more cleaning tips and product reviews at ShowHomeStyle.com.

Choosing A Commercial Vacuum Cleaner
If you are thinking about buying a new industrial powered commercial vacuum for professional use, you should consider choosing one that is robust.
The main difference between a commercial cleaner and a domestic one is the durability of the product.
Cleaning carpeted or hard floors in a commercial environment day in, day out, will cause a domestic vacuum to wear out quickly. Even a highly rated machine such as the Shark DuoClean NV803 would struggle with constant use everyday for long periods of time. Their motors aren't designed for this pressure and will quickly burn out.
That's why I recommend the Oreck U2000RB1. It has been tested and proven to deal with the cleaning tasks required by large hotel chains and restaurants without failure. That's why it's our top rated commercial vacuum.
Another feature of a high quality commercial vacuum cleaner is simplicity. Too many bells and whistles on a cleaner can lead to faults or issues when they go wrong. You don't need them for this type of work.
The best commercial vacuums will do basic tasks and do them well. Typical tasks include covering large floor areas, both carpeted and hard flooring, without overheating or needing emptied too often.
Extra long power cords, powerful efficient motors, and large dust bags ensure that your industrial vacuum can cope with the tasks that you or your staff need it for.
What Features Should The Best Commercial Vacuums Have?
This is my list of features that I look for when choosing and testing vacuum cleaners for industrial use.
Powerful Motor
Wide Cleaning Path
Large Capacity Dust Bag or Cup
Long Power Cord
Lightweight And Easy To Push
Agile, Flexible And Easy To Maneuver
Good Manufacturer Warranty
Easy To Store & Maintain
Good Value Price
You might not be able to find a machine that ticks every box on my list, but if you find one that comes close, then jump on it.
So far in 2020, the Oreck U2000RB1 has been the best commercial vacuum cleaner we've tested. We especially liked the cogged Endurolife permanent v-belt with its 5 year guarantee that will reduce slippage in the brush bar and give you more efficient cleaning and prolonged motor life.