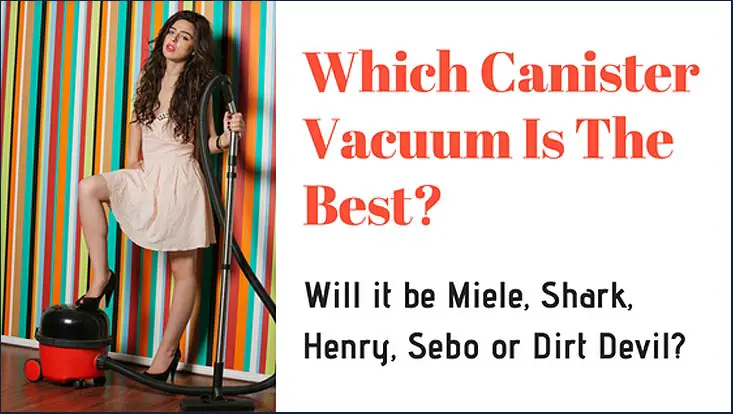 Best Canister Vacuum 2020
Last Updated: 4th January 2020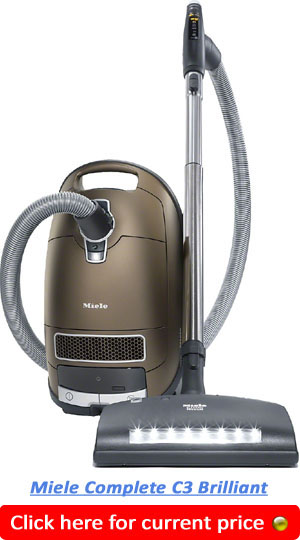 We've just finished choosing the best canister vacuum 2020. Discover the winner below!
Canister vacuum cleaners are both versatile and flexible and are really useful for removing dust and dirt from stairs, hard floors, automobiles and under furniture.
They can really excel and outperform other vacuum types such as uprights and handhelds in these areas.
The best canister vacuums also perform well on carpeted areas, rugs and upholstery too.
And the winner is…
I've chosen the Miele Complete C3 Brilliant as the best canister vacuum cleaner 2020.
In my opinion, the ideal canister vacuum should be lightweight for easy lifting and maneuvering, quiet to use and have superb hepa filtration to protect allergy suffers.
These attributes and a few others such as pet friendliness, etc.,  were the main qualities I was looking for when researching and testing the best canister vacuum cleaners for my 2020 review.
After my extensive research and personal testing of the best canister vacuums on the market which included big brands such as Miele, Kenmore, Dyson, Electrolux & Hoover, I've found five makes & models that really stand out from the rest.

Top 5 Canister Vacuum Cleaners 2020
You may have noticed that these are the same major brands that are featured in Consumer Reports and that you can buy in large stores, both online and offline, such as Best Buy, Walmart, Amazon, Sears & Target.
In fact, you may be able to pick up your favorite model in a Black Friday or Cyber Monday deal. I used to run holiday sales all the time when I owned my shop. Everyone loves a little bit of discount!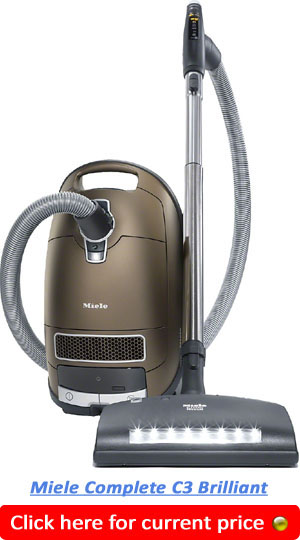 The Miele Complete C3 Brilliant Powerline really is the best canister vacuum for carpet on the market and if you're someone who is serious about keeping their home clean, it really starts with the floors.
It comes with all the bells and whistles you would expect from a top of the line canister.
The price isn't cheap, however you are getting a high quality floor cleaning tool and you've probably heard before that if you want the best, you have to pay for it.
So what make it so special? In a nutshell, the C3 Brilliant has a 1200 watt powerful 6 stage motor for excellent suction, that is easily controlled on the handle, where you can get to it quickly.
It's gentle and quiet on easily scored hard floors, has superb air hygiene with HEPA filtration and has a spotlight on the motorhead.
There are also automatic speed settings for those who already know what they want and they want it to work without worrying about it. The automatic setting also allows you to go from carpet to hard floor without having to make any changes. The Miele Complete C3 Brilliant canister vacuum also includes a premium brush and many accessories that can help you to keep your home clean, top to bottom.
As well as being great on carpets this really is the best canister vacuum for hardwood floors.
Perhaps one of the features you will appreciate the most about the C3 Brilliant is that it runs really quietly. It also allows you to clean the floor within a 36-foot radius, so you can get the job done without having to look for a plug every few minutes.
Perhaps the most common positive review about the C3 Brilliant is that "it sucks." Of course, when you are talking about a vacuum, that is high praise. Customers also seemed to appreciate that it was easy to take apart when it needed to be cleaned, along with how quietly it runs.
Although the reviews were largely positive, there were also some negative comments that are worth considering as well. Perhaps the top negative review came in when the vacuum broke. Of course, with the warranty, that really shouldn't be a problem.
The bottom line is; if you want the best canister vacuum that you can buy for cleaning your whole house, the Miele Complete C3 is just as the name says, BRILLIANT.
The SEBO 9688AM Airbelt K3 is a world-class canister vacuum and among the best in its class. It offers a power-packed set of features such as 3.25 inch profile, suction adjustment, full bag light, 20 foot power cord,  that are convenient, comforting, and downright excellent.
The adjustable suction which can be changed from 0 to 1200 watts is one of the main benefits of the SEBO Airbelt K3. It is able to move between hard floors and carpet easily and will pick up anything including those pesky hairs that lie around as your dog/cat runs free around your home. It would be fully recommended as our best canister vacuum for hardwood floors and pet hair combined.
It's lightweight at around 13 pounds and easy to pull around on it's rubber coated wheels.
The 32 foot operating range has been a major plus point for all of the customers who have had the opportunity to use the Airbelt K3. Being able to maneuver across 32 feet without having to unplug the 20 foot power cord will let you cover even the biggest of spaces in one sweep.
Some points that could be improved about the Sebo K3 include the cord retraction. Some customers who bought this vacuum mentioned that the auto retraction was an issue.
The issue is that the cord uses an auto-retract feature that you pull out a little to rewind back. It frequently tries to retract itself when cleaning and pulls the plug out of the wall outlet. You can overcome this by fully extending the power cord out before you use it.
The main thing that sets the Shark NR96 canister vacuum cleaner apart from others is its unique Lift-Away feature.
Not only will this help clean all of the hard surfaces of your home, but it can also help you deep clean carpets, which means you will save the money you typically spend to have them professionally done. This is our 3rd best canister vacuum for hardwood and carpet floors.
Other great features include:
– A HEPA filter that will prevent dust and other allergens from accumulating in the air. This means clean air for everyone, especially those that have allergies and.or asthma.
– This model is bagless, which means you will not have to worry about making a mess while emptying them. It will also save money since you will not have to purchase any periodically.
– It is fairly quiet when being operated. You will not disturb those around you and it will be perfectly fine if you decide to clean at off hours. There is a sound, but it is no louder than listening to a television at moderate volume.
Real Customer Reviews & Opinions
Many people who purchased this loved the fact that the suction was very strong. In fact, several mentioned cleaning up pet litter and hair, which are typically hard to remove the first time. Others felt that the suction was much stronger than it needed to be and worried about damaging their carpets.
Storing a vacuum can be a bit tricky, but many mentioned the fact that they could put this away without much effort, even when they were working with limited space.
Anyone who is in the market for a high-powered canister vacuum that is easy to store will be pleased with this unit. On the other hand, some felt like the quality of the vacuum was not worth the premium price they paid for it.
The Numatic Henry Extra HVX200 is a lightweight and powerful canister vacuum that's been getting a lot of praise from customers who own it.
Here's a quick overview of some of it's key features and why they're useful.
The Henry Extra HVX200 doesn't have an ordinary filtering system. It has a 3-stage Microfresh system, which allows it to filter very efficiently. Because the filtration system is so effective, this canister vacuum should be able to significantly reduce the amount of dust and airborne allergens in your home.
The Henry HVX200 offers a 98% filtration rate, which is a lot higher than many of its top competitors. It also offers very high levels of floor care including both carpet and hard floors. It should be able to handle any kind of dust and debris you put in it's way with ease.
As you know a vacuum cleaner is only as good as it's suction power and it's important that your canister has a strong motor.
Because you'll be using your new cleaner on a regular basis, you should make sure that the motor is powerful enough to meet your needs.
The Henry Extra has an extremely powerful 580-watt motor. It's a potent canister vacuum cleaner that can handle just about anything.
One of the most appealing features of the Numatic Henry Extra HVX200 is the activated charcoal filter membrane. This powerful filtering system can help you control odors in your home. It's a particularly great feature for pet owners.
What Customers Are Saying About Henry
Customers love that the Henry Extra is both lightweight and powerful. They're impressed by the vacuum's suction and are thrilled with its filtration system. Many customers also praised the vacuum's design.
Of course, the vacuum isn't perfect. Some customers complained that the vacuum builds up a static charge on carpets, while others thought that the vacuum hose was too short.
If you're in the market for a vacuum cleaner, the Numatic Henry Extra HVX200 is certainly worth a closer look. This unique vacuum has a lot to offer. For more vacuum cleaner reviews checkout Show Home Style.
The Dirt Devil Tattoo Crimson sports a compact design, perfectly suited for small homes and dorm rooms.
This is because it is small and lightweight and doesn't use up a lot of storage space.
Importantly, however, it bears a lot of the necessary features such as a 10 amp motor, 11 inch nozzle and 20 foot power cord which are all things required for excellent performance and cleaning.
For instance, its telescopic, extension wand feature and the length of its electricity cord allow users to reach high up and right into the corners of their ceiling. Now you can clean your home thoroughly and in comfort.
It is also designed for excellent usability. In this regard, the combination of vacuuming tools, automatic cord rewind, and a long cord make it very easy to use. Additionally, it is designed to be very sturdy and compact. This sturdy design ensures that it can handle the rigors of being in a home environment.
Customer Reviews & Opinions
It has a robust and sturdy build for a long lasting appliance. This is quite commendable as it is designed to last quite long, with little performance deterioration over its life. Additionally, it is perfectly featured for use in small houses, especially those with hardwood.
Nonetheless, its vacuum tube is also not on par with many other cleaners in the market. For starters, it has a plasticky feel and it is quite rigid. A good vacuum tube is one that is flexible and nimble enough to move around tight corners.
Some users have mentioned that it does not have ample suction for vacuuming high-pile rugs. While this can be easily be solved by having multiple passes, it ends being a nuisance and resulting in uneven vacuuming. In this regards, its producers could do better for the convenience of its users.