Top Rated Vacuum For Cat Litter 2020
Last Updated: 2nd August 2020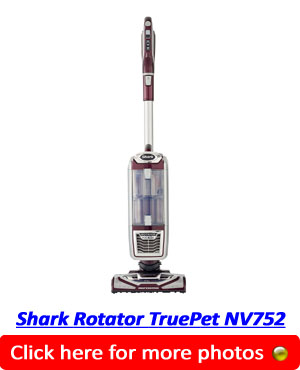 Cleaning up litter is one of the most annoying parts of being a cat owner.
Nobody wants to pick up or even sweep the litter of their cat once it is scattered all over the floor.
The mere idea is just gross due to its being unsanitary, stinky, and just downright awkward.
Some people have even asked me, can you vacuum cat litter? Well, the answer is yes!
If you want a hassle free way to clean up after your kitty, your best bet has got to be the Shark NV752 pet vacuum cleaner (click here to check its superb reviews).
The Shark pet vacuum is the perfect option for someone who wants to clean up cat litter on their flooring without getting their hands dirty. (The TruePet NV752 should only be used for dry cat litter. If there is any liquid at all use the Shop-vac.)
You are guaranteed to have hassle free cleaning with this 2-in-1 pet vacuum and I've created this in-depth guide to show you which vacuum is best for picking up kitty litter and hair!
Another great vacuum cleaner for picking up cat litter from carpet is the Shop-vac EZ Series Wet/Dry. This particular vacuum is most suited to dirty, wet, messy cat litter spillages.
The Shark TruePet NV752 is the best of the best all round vacuum cleaner for pet hair, but if you want something cheaper than can suck up wet mess, then the Shop-vac EZ Series Wet/Dry is the best vacuum for spilled cat litter on your carpet and tiles.
5 Best Vacuum Cleaners For Cat Litter 2020
Choosing The Best Vacuum For Cat Litter
Not all vacuums are created equally due to the fact that there are several specialized features that different manufacturers such as Shark, Dyson, Bissell, Miele & Hoover etc., have incorporated into their vacuums.
It is most important that you are aware of the features that you want and need before you get yourself a vacuum.
Since we're looking for the best vacuum for cat litter, I have narrowed down my search to the absolute top rated vacs on the market for dealing with pet dander and mess.
The Shark vacuum cleaner that I've chosen comes with features such as the mini motorized pet tool that makes it perfect for cleaning up after your cat!
After extensive research I've chosen the Shark NV752 Powered Lift-Away TruePet and the Shop-Vac Wet/Dry EZ Series based on a large number of consumer reports and professional reviews.
Shark TruePet NV752 Overview
This useful vacuum was specially created by Shark to clean up after your pet with ease and zero hassle. The features that are incorporated into this pet vac make it perfect for all small pet owners out there!
Cat owners are really impressed with the mini motorized brush that allows you to extract dust, debris, hairs, litter, and allergens from your floor, upholstery, pillows, and carpets with ease!
You'll be glad to know that this vacuum isn't only great for cleaning pet litter as it also works in three different modes that make it perfect for cleaning almost anything, anywhere in your home.
The NV752 TruePet's most basic function is its upright mode which lets it operate like a typical conventional vacuum cleaner. This mode is perfect for cleaning floors!
Cleaning hard-to-reach places such as below couches and beds is also incredibly easy thanks to the powered lift-away mode. This feature allows you to easily extend the reach of the cleaning head to reach almost any space possible within your home.
Aside from being able to clean hard-to-reach places, the NV752 also comes with an above-floor attachment that is perfect if you want to clean stairs.
Another great feature that this pet vac comes with is the LED lights that are attached to the motor head. The LED lights allow you to navigate dark corners without a hassle.
Shark has made sure that there will be no excuse for leaving a spot in your home unclean due to low-light!
Controlling the NV752 is a breeze thanks to the fingertip controls that are conveniently located on the vacuum's handle.
Shop-Vac EZ Series 5895200 Wet/Dry
The Shop-Vac 2.5 Peak Horsepower Wet/ Dry vacuum cleaner has a
2.5-gallon dolly with roller casters
that makes it easy to pull along as you clean.
It has a top carry handle for easy transport and for mounting on the wall for storage, which is great if you are short on space.
The convenience of a hand-held model allows you to use the Shop-Vac for a variety of cleaning jobs including household, vehicles, boats, RVs, and many other uses.
It works as well in workshop areas to pick up sawdust and metal shavings as it does in your living areas.
The Shop-Vac comes with many handy accessories and is light enough to hold when the hose is just not long enough to reach higher areas.
The cup brush is particularly handy when getting to the occasional cobwebs that accumulate in corner joints and around the ceiling.
Accessories Included:
Two extension wands
Crevice tool
Gulper nozzle
7 foot long 1 ¼ inch friction fit hose
Round brush
Dual Surface nozzle for Hard floors and carpeted floors
Filter bag
Foam sleeve
Wall mount bracket
The attachments are sturdy and durable and can deal with any mess, wet or dry which is great for getting cat litter off of carpet.
The powerful suction gets rid of all dirt and dust around your home, including those elusive dust balls that collect under the refrigerator and other appliances.
Powerful Blower For Hard To Reach Areas
For hard-to-reach areas, this quality little vacuum instantly turns into a powerful blower by simply attaching the end of the hose into the blower port at the back of the unit.
And when spills occur in the kitchen or there is an overflow in the laundry room, it conveniently converts into a wet vacuum.
The versatile dual-floor nozzle allows you to go effortlessly from hard floors to carpets without missing a beat and with a 2.5-gallon capacity tank you can clean your entire home without having to stop to empty the dirt out.
Filters To Prevent Allergens Escaping
A foam sleeve filter and a collection filter bag are included which gives you the choice of either using the paper bag filter or the mesh filter.
The four-wheel base keeps it from falling over and it has a reasonably long 7-foot power cord and the semi-circular slots on the top are designed to hold all the accessories for ready use.
What Real Customers Had To Say
Most users love the versatility of having a convenient handheld vacuum with the suction power of larger models.
They also love the way the vacuum rolls along on its casters and all the handy accessories that allow them to deal with all sorts of cleaning jobs as they go along.
They also find it great for vacuuming vehicles and it even picks up leaves from the patio.
Confused About The Filters
Users have been confused about why two filters are supplied and what they are used for. The right way is to use only one filter.
The paper bag filter can be used for normal household dust but when doing wet vacuuming, you will need to fit the mesh filter.
So Good, They Bought Two
Users say they have purchased two units – using one for household cleaning only and second one in dirty areas like the garage, basement and workshop with the mesh filter fitted permanently.
Real customers have also found that the 2.5-gallon model is not strong enough to suck water out of upholstery or carpets and the 4-gallon model is more suitable for this purpose.
This powerful little vacuum with a quiet operation is small, light, and easily maneuverable and comes with all the attachments needed to keep your home clean and dust free.
It can even tackle large amounts of pet hair and keep your upholstery dust free.
Mila's Conclusion
We all know that cleaning cat litter is part of being a pet owner. The act of cleaning litter is unavoidable and it is akin to changing the diaper of a baby.
You may not want to do it but sooner or later, I guarantee that you'll have to address the elephant in the room.
Being equipped with the best pet vacuum cleaner for the job is the way to go if you're looking to get dust and dirt cleaned up quicker and easier.
I recommend that you get the Shark Rotator Powered Lift-Away TruePet or the Shop-Vac EZ Series as soon as possible. They will make your life so much easier and really are the best vacuums for kitty hair and wet litter!
Related Articles